The Tour of the California Alps - July 11, 1999
Aka " The Markleville Death Ride"
The Training Report
In a moment of Tunitas Creek-induced euphoria last August, Bob's "friend" Joe convinced Bob to agree to accompany him on the 1999 Death Ride. Sure, said Bob, always forgetting that what seems easy 11 months hence, turns utterly frightening when it is less than 90 days away. But having blabbed to enough people, Joe and Bob are now committed. Judy even got into the program by volunteering to be on the Skeleton Crew where she will administer to the riders at the top of Ebbits Pass; the third and fourth passes of the ride. Eric Evitt and Bruce Scott, although way too young to be true Fog Team members, have signed on as TFA's (Team Fog Associates) and have committed to this insanity as well. Join us as we whine and groan through two months of "getting ready". (In the chart, the Saturday dates are for the Team, the others are the Webmaster's training. ) (Monthly miles: Apr, (from the 16th) - 335, May - 762, June - 592)
Read all about the ride itself - The Real Thing!
---
"Let the whining begin"* - The Training Schedule
After extensive discussions with riders of past Death Rides, mainly Hawk and Gary, we developed the following very complex and sophisticated training schedule.
"Go Ride a lot of hills"!
(*Judy's Favorite Quote)
(Skip the table and get to the good stuff)
| | | | | |
| --- | --- | --- | --- | --- |
| Day | Miles | Climbing | Time | Notes |
| 16 April | 25 | 1400 | 1:30 | |
| 17 April | 30 | 1400 | 1:50 | |
| 18 April | 102 | 5000 | 6:50 | Primervera Century (15.5 m.p.h.) |
| 20 April | 29 | 3000 | 2:15 | |
| 23 April | 34 | 2200 | 2:00 | Hiway 92 and Skyline |
| 24 April | 85 | 7300 | 7:15 | Felton and Zayante |
| 30 April | 30 | 3800 | 2:40 | |
| 1 May | 70 | 6000 | 6:00 | |
| 2 May | | (inside) | | 35 minutes, intervals at "9" |
| 4 May | 45 | 4500 | 3:40 | Old La Honda, Alpine, down PgM |
| 6 May | 42 | 4600 | 3:30 | Old La Honda, Alpine, down Wdse Rd |
| 8 may | 75 | 6800 | | Old La H, Pesc., Verde, Tunitias, Golf Club |
| 11 May | 35 | 5200 | 3:25 | Kings 3 Times |
| 13 May | 32 | 4800 | 3:15 | Kings, Tunitias, Verde, and return |
| 15 May | 73 | 7550 | 6:15 | Pg Mill, Haskins, Alpine, down Wdse, & Kings |
| 18 May | 47 | 2000 | 2:25 | Wdse to 92, three times - 19.2 mph |
| 20 May | | | | Soo windy and cold - 90 minutes of intervals @ 9/8 |
| 22 May | 84 | 8400 | 7:25 | Old LaH,Pesc.,Stage, HMB via 1, Purrisima,Lobitas,Tunitas,down and then up Kings! |
| 23 May | 38 | 1200 | 3:00 | Diabetes 50K ride with Judy |
| 24 May | | | | 90 minutes on Trainer |
| 27 May | 88 | 4000 | | Coast Ride Day 1 - lots of adventures |
| 28 May | 105 | 6500 | | Day 2 - Average speed - 17 mph |
| 30 May | 8 | 0 | 1:00 | Fun on the boardwalk in Santa Barbara |
| 31 May | 20 | 500 | 1:45 | Quick ride from El Monte, on the way home |
| 2 June | 25 | 2900 | 2:04 | From HBM -Verde, Lob., Tunitas |
| 6 June | 22 | 1250 | 1:20 | A quick jaunt to the Golf Club |
| 7 June | 119 | 8250 | 10:00 | The Sequoia Century, plus back home from Palo Alto |
| 10 June | | | :90 | On the Cybex |
| 11 June | | | :90 | |
| 13 June | 64 | 9320 | 8:00 | Mt Diablo, Three Times! |
| 15 June | 45 | 1500 | 2:20 | Woodside to 92, Three Times |
| 17 Junt | 40 | 2300 | 2:15 | Woodside to 92 Twice, with once to Golf Couse |
| 19 June | 9.2 | 2300 | :55 | Mt Ashland Road |
| 20 June | 18.4 | 4600 | 2:00 | Mt Ashland Road (Twice) |
| 23 June | 44 | 4300 | 3 | Page Mill, backside of Old LaH, to Kings - Judy sagged on the down hills :) |
| 25 June | 98 | 6300 | 7:30 | Mt Eden, Hiway 9, Scotts Valley, Mt Charlie, Summit, Santa Cruz 9 (and then dinner and the Opera!!) |
| 26 June | 63 | 6000 | 5:30 | Old LaH., San G, Stage, Purisimma (2x), Lobitas, Tunitas |
| 29 June | 45 | 4400 | 3:40 | The most beautiful morning, sunshine all the way out and back - Old LaH., Stage, Lobitas, Tunitas. |
| 1 July | 26 | 1200 | 1:20 | Golf Course |
| 3 July | 49 | 5100 | 3:45 | Old LaH., Haskins, Alpine, down Page Mill |
---
---
3 July: Last team traing ride found only Bob and Joe - with The Tyre Scott and Fats Evitt flaking out with lame excuses of some kind ( "wild stomach flu" - but he still had legs; and "family" - where are his priorities?). But it was a beautiful ride, taking it easy and hardly breathing as they cruised up Alpine, remembering how hard it seemed just two months ago! Joe is off to Kirkwood to get in a week of "high altitude training" he says. Probably wants to sit around and drink beer out of sight of everyone. Stay tuned for a report next weekend. It is really here already?
---
26 June: Another wonderful day in Paradise! After a warm-up on Old La Honda and a fast pace line down 84 to San Gregorio, with Fast Eddy ( ) keeping the line in order, the team headed up the coast to Verde and Purisima Creek. After Bruce's daily flat tire, we headed into the canyon and up and over to Half Moon Bay and a glorious lunch in the sunshine, outside the Moonshine Cafe. With only a slight groan or two, we headed back to Purisima the other way, and then Lobitos Creek and Tunitas (that's "Tunitas the hard way") and home.
Our fearless training guru, TLOIG w/ JG's, announced that he was in now in a "taper down" mode, and so there would be no longer any hard rides, like "up to the Golf Course and back to Woodside". (He flatly ignored the suggestion that he seemed to jump over to the "taper down" slope of the training curve without actually reaching the top of the "the increasingly difficult" slope.)
---
Friday 25 June: Taking advantage of the PricewaterhouseCoopers staff outing, and one of the activities, a 35 mile bike ride out of Scotts Valley, Bob made it a Century day by riding to Scotts Valley from Woodside. It was of those wonderful cool and sunny West Coast days, with the fog clearing in front as he headed up Mt. Eden and then Hiway 9. Running late, he had to press through Boulder Creek and Felton, but still had enough left to go up Mt. Charlie and over Summit before heading down into Soquel and over to Santa Cruz. Judy picked him up there and off they went to dinner with friends in SF and then Das Rheingold at the SF Opera. (A renaissance triathelon!)
---
20 - 22 June: Webmaster skips town for the Weekend. Not to avoid riding, however, since he took his bicycle to Ashland, Oregon with him. Between Shakespeare and the wonderful breakfast's shared with Judy at the Mt. Ashland Inn, Bob rode the Mt. Ashland road, once on Saturday and twice on Sunday. Judy helped by driving him downhill. (What's wrong with this picture?). While he was getting in a bit of high altitude training, the rest of Team Fog had to be content with riding the flatlands.
---
13 June: Early Sunday morning, Bruce, Eric and Bob descended on Joe's house to roust him out of bed and off to the East Bay. Three Times Mt. Diablo was the cry. A leisurely first trip up and a rude awakening when we came upon the last 1/8 mile - "Was that a 20% or 25% grade Bruce?" Beautiful day, beautiful views, beautiful scenery, beautiful flat tires. Three of them, all the back tire of course; one for Bruce and two for Bob. No matter, we did it; 9200 feet of climbing in only 64 miles - Bob's kind of ride - maximum efficiency!
---
TEAM FOG WINS SIXTH AND FINAL STAGE OF TOUR de SEQUOIA!
High speed chase from Saratoga to Palo Alto puts Bob and Joe in the lead for yet another stage win for the old guys
7 June: Wow!, a totally sunny day. Not one of the toughest Sequoia's, but certainly one for the record books weather-wise. Up Page Mill and then over to Pescadero, down the coast to Santa Cruz - sunshine all the way, and, on the coast, a wonderful tail wind. Average speed for the 30 miles along the sea - probably 25! Wow. Not bad for old guys. Of course that was nothing compared to what we did after leaving Saratoga. Bob was disappointed that we didn't go over Mt. Eden on the way home so he decided to at least make the last stage a challenge. Leading the pack for three or four miles, Team Fog collected several other riders in their pellaton before hitting the "Foothill Stretch". Coming into the last 1/2 mile, Bob urged Eric on to the lead and, just before the final 200 yards coming up to Arastradero Road, Bob jumped ahead with Joe on his wheel. At the intersection Joe was able to swing around and lead the pack of what, 25 year olds? into the finish area. Chalk another one up for the Fog Team.
The middle of the ride as as interesting, at least after wending our way through every stop sign and traffic light in Santa Cruz. From Santa Cruz we went to Scotts Valley and then up Glenwood to Mt. Charlie Road. A real treat; Mt. Charlie as a net gain of about 1200 feet, but a gross climb of over 1500. It keeps going up and then down a while, up and then down awhile. The only trouble is the "ups" are like drive-in movie screens. After Mt. Charlie's wonders, we where treated to the joys of up and down the sides of Lexington Reservoir and then a terrible bike trail into Los Gatos - gravel and rock for what seemed like an eternity. Does wonders to ones kidneys!
---
27/28 May: The nth annual coast ride started off inauspiciously and of the 5 riders, only 1 ended up riding 100% of the course. But all had fun and came out of it healthy if we overlook a bit of road rash on Buce's arm. Bruce, of course took the brunt of the inauspicious beginning when he had to make a detour to the notary to close the sale of his house in Idaho. As much fun as that was, it wasn't biking, so Bruce will have to tell that tale himself. Then Bob watched Judy drive off with his helmet and gloves and he made a detour (with help from Elise) home for extras. By 9 am the group, less Bruce who was still having fun with the notary system, left from The Bicycle Outfitter and made their way up Hiway 9. At the top of the summit on Skyline they were joined by Bruce, who then proceeded to show us how to take the curves on the downside of Skyline.
I wanted to take his picture lying on the side of the road, but he wouldn't lie back down for me.
All in all, it was a wonderful day, even if we did get to Monterey about 2 hours behind schedule. Helped out by lunch in Soquel in our usual spot: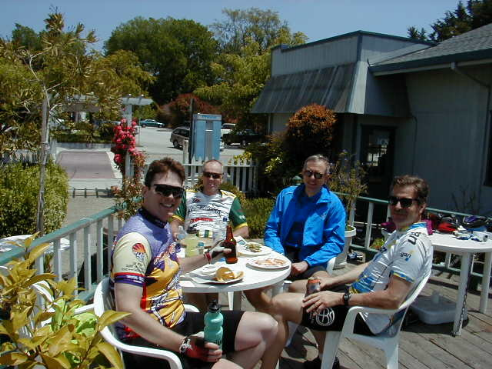 Day 2: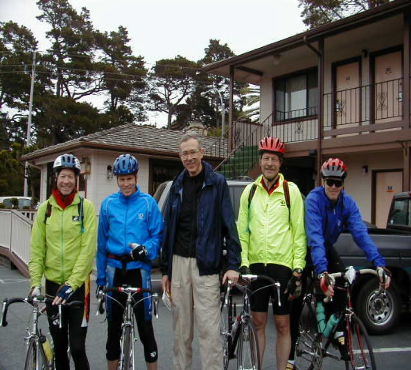 Why is Eric not dressed? Oh dear, did his front wheel look like a potato chip? Not to worry, he got it fixed and Judy dropped him off 2 1/2 miles this side of Santa Lucia, just in time for lunch. The day was wonderful, and the "newbies" Bruce and Bob (the two on the far right) were mesmerized by the scenery and sunshine. While the later only lasted until lunch, it didn't effect the fun or the riders, except Joe who had trouble with his "JGs". (A tale he will have to tell himself). Here we all are, doing what cyclists like to do best (at Ragged Point):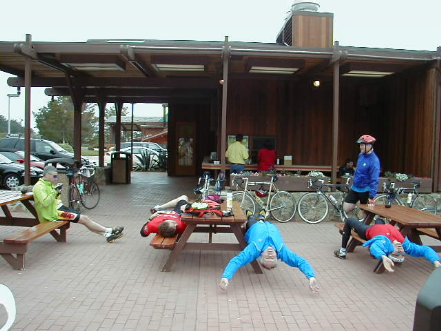 After this little exercise, we took off for the last 23 miles to Cambria and hit the center of town in exactly 1 hour; not too shabby, even if we did have a little help from the ocean breeze.
Not to make you all jealous, but here is Bob's reward - The Simpson House in Santa Barbara, where he and Judy spend the rest of the weekend:
(photo credits: Judith L.. Chovan, Princess in Residence)
---
23 May: After a punishing day doing as many hills as he could find, Judy got him out of bed at 6 AM and led him on a chase through the wilds of Woodside and Portola Valley for the annual "Peninsula Challenge" for the American Diabetes Association. Bob, muttering something like, next year can't I just write them a check, kept his eye on Judy wheel for 38 miles on a beautiful Sunday morning. As sore as his legs were, it felt good to get out and spin on rolling terrain.
---
22 May: This was the first warm day of the season, and even then not so warm on the coast. At the top of Haskins, Joe announced that he was riding with Elise on the morrow, and had to take it easy so that she wouldn't "whup his ass". No amount of persuasion would change his mind and so Bob and Eric went off to Pescadero and Stage Road to San Gregorio. From San Gregorio to HMB we actually had Almost A Tail Wind and we cruised up the coast at between 28 and 32 m.p.h.. Awesome ride. Purisima was beautiful, wild flowers everywhere, barely noticed the 600' 10% grade to the top. Getting back to Rt.. 1 was a treat, 30 m.p.h. wind in our faces until we turned up Lobitas. Finally we were able to warm up. Eric was taking it easy going up Tunitas, so he only dropped Bob in the first 1/4 mile and had, what, a 20 minute wait at the top? At the top of Kings, Bob, wondering what he was doing to his knees, and wishing Wheelsmith had finished putting the triple on the Bianchi, suggested that they just ride on down and home. But, having had the chance to spin on the way down, he had a change of heart and, at the Store turned around and headed up, "just to the Park". Eric was, of course, waiting for him at the park, in his big gear, pointing down hill. Knowing that a trip to the top would give them just over 8000', however, Bob pointed up. With a groan that could be heard in Los Altos, Eric turned around and followed Bob up. Sure enough, at the top, they had managed 7980', and with the shortcut through to Canada road, had 8000' for the day.
---
18 May: Feeling the effects of the past Saturday's hammering, I decided to go easy on the hills and so I ran up to 92 and back to Woodside. It felt so nice I did it again and then one more for good measure. At 7 and 8 in the morning it is beautiful. Each lap I managed a bit faster than the one before, so I felt good, moving my overall average speed from 18.2 to 19.1 to 19.2 at the end. Next week, I will go for four or five laps.
---
15 May: Not really warm, but at least it was sunny and Joe had his triple to test; so we headed up Page Mill. After stopping to shed a jacket or two, Bob and Eric had to chase down the Little Old Irish Guy in the Granny Gear. The LOIG in the GG was pretty fast today and it was not until the top of the steep, nearly four miles up that we caught him. Those triples are neat stuff. Going down Alpine had such spectacular views, that we didn't even mind the bumps and the cold. After a quick run up Haskins, we turned around at the top and headed back up Alpine. A quick run down Skyline and we were soon sitting in the sun at Sky Londa having a quick lunch. Not content with the climbing so far, we headed down 84 and made a quick run up Kings, just for fun!
---